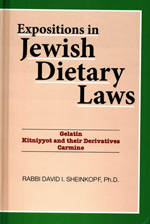 Kosher Supervisory Services provides authoritative rabbinic supervision and certification to companies that manufacture bovine gelatin and collagen, companies that manufacture marine gelatin and collagen, companies that produce the food coloring known as carmine, and companies that sell products that contain these ingredients. The companies that rely on our services can place our logo, the "Shin-K," on their products to attest that those products are under our certification.
Kosher Supervisory Services' founder, Rabbi Dr. David I. Sheinkopf z'l, was active in the field of kosher supervision for many years. His works, Issues in Jewish Dietary Laws (Ktav 1988) and Expositions in Jewish Dietary Laws (Ktav 2010), established him as an international kosher certifier for products made in the USA, Europe, Asia, and South America. Rabbi Sheinkopf was ordained at Mesivta Rabbi Chaim Berlin and held a Ph.D. in Talmudic studies from Yeshiva University (New York).
Supervision continues through his son and associate, Rabbi Noah S. Sheinkopf. Rabbi Noah pursued advanced studies in Talmud and Jewish Law at Ohr Yerushalayim (Israel) and Kollel Ayshel Avrohom (Monsey, NY). He was ordained at Yeshivas Ohr HaChaim (Queens, NY) and served as a high school and post high school rebbi for 18 years prior to joining his father as a kosher certifier.